Payroll processing is an integral part of running any business, big or small. If you want to keep your employees happy and motivated, handling payroll Kenya correctly is a great way to start.
That means knowing exactly how much to pay each employee, how much tax and other statutory deductions to make per pay, and how much tax you need to render to the Kenya Revenue Authority (KRA).
But that's not everything. Today, we will explore more about payroll Kenya, the best (and basic) features that a good payroll software must have, the costs, and the benefits of running payroll accurately and timely.
What are some of the payroll services in Kenya that you can get?
There are several options for handling payroll in Kenya. Some of the payroll Kenya services that you can opt for in your business include:
In-house payroll Kenya
If you opt for this option, you'll be forced to establish your process of processing payroll and keeping records internally. That definitely means having an extension of your HR department or accounting department handle payroll and everything that comes with it.
Unfortunately, this also means that you process payroll manually with no automation help of any kind.
Using payroll software
This option avails endless opportunities as there are countless payroll software available in the market to choose from. A majority are paid while some are completely free. The free options are a bit limiting as they are not full-featured payroll software.
Using a payroll service Kenya provider
Another option is to hire payroll service providers in Kenya. It's like literally outsourcing all your payroll processing to a third-party provider who will then manage all of your payroll. Depending on the agreement in place, you can decide to outsource everything or just a part of your payroll processing.
This option can be expensive but if done right, you'll have more time and personnel to deploy to other areas of your business.
Using Professional accountants to process and manage your payroll and records
The difference between this and the above option is that an accountant will besides running your payroll and filing tax, is also available to offer business advice and guidance when needed.
Using a third-party payroll service provider may mean additional costs when you need professional advice and guidance on related services or issues.
An accountant may be hired to be resident in the company or operate from his independent office. This option requires thorough vetting to ascertain the qualifications and expertise of the accountant in matters payroll, tax, tax laws, etc.
Payroll Kenya features that you should have if you opt for a payroll software
Every payroll software worth its salt should have at least the very basic distinguishing features. To process payroll efficiently, please consider payroll software with the following set of features.
Simple set-up and user-friendly interface
Every business owner knows how valuable time is and will not wish to spend money on software that takes a whole day to set up even for the very basic functions.
When selecting a payroll Kenya software, make sure it has a simple set-up followed by a user-friendly interface and navigation. At the very least, it ought to have an easy-to-use set-up wizard, free payroll set-up, and importing capabilities.
Accurate tax filings and deposits
If you file wrong tax returns, you risk being fined heavily by KRA and other legal charges being imposed on your business.
Good payroll software should seamlessly process withholding tax, PAYE, etc. as well as be able to accurately run payroll deposits. Such software is often referred to as full-service payroll software, like Wagemaster.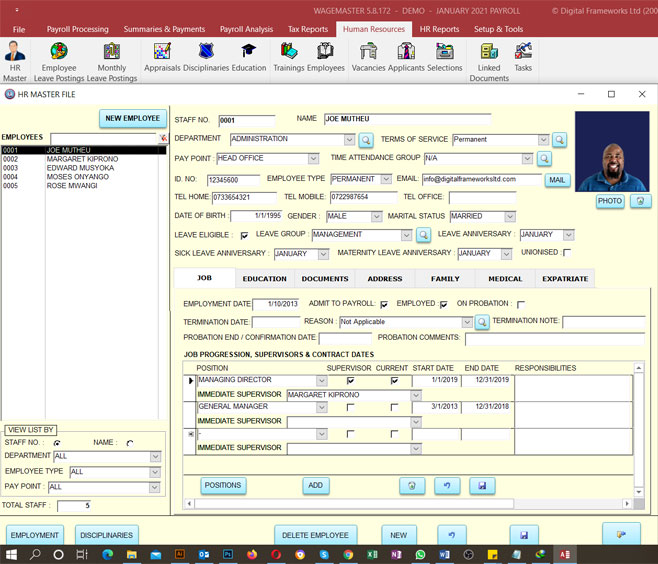 Direct deposits
Good payroll software should be able to handle direct deposits once programmed to handle such. This way, both you and your team will save time and effort to constantly process deposits manually, month after month.
Accurate Payroll reports
Payroll reports provide an insight into the company's expenditure on employees, tax, and other related costs.
The payroll reports don't have to be basic. You need accurate, robust, and easy-to-use payroll reports and reveal insights instantly. Also, you need more than one type of payroll report.
Good software should be able to pull up payroll register reports, payroll tax liabilities, checks, etc. It should also be able to provide breakdown reports like for single employees or grouped (like departments etc.).
Integration options
What use is payroll Kenya software if it can't integrate with your other critical systems that contribute payroll data? When choosing payroll software, insist on one getting full-featured payroll that integrates seamlessly with your HR modules, time and attendance software, etc.
Wagemaster is a complete payroll solution that integrates seamlessly with your existing HR and time tracking software. Besides, Wagemaster has a full HR module that takes care of ALL your HR management needs.
In addition, it also integrates with our Wagemaster biometric time and attendance software
Employee self-service
Employee self-service means there are a few functions within the payroll software that employees can self-use like change information, review pays and print payslips, etc.
This is very important if you want to allow employees the luxury of managing some bit of their data whenever they want to. It also saves the company some resources and time spent on printing and emailing payslips, adjusting personal data, etc.
Top-notch support
Support is everything for businesses that use third-party software or outsource services to vendors of the same.
If you are going to have a good user experience as a consumer of a service, you must be sure of the support offered. If a payroll software vendor has poor customer support, limited documentation, and manuals, run away.
If it's software that has been in the market for a while, do some research and read customer reviews online to get an idea of how customer support is.
Social media platforms are also a good starting point for the same.
Frequently asked questions about Payroll Kenya
Below are some of the questions people have around the topic of payroll Kenya.
How is payroll done in Kenya?
You can do payroll through an in-house team, a third-party payroll provider, a hired accountant or through payroll software like Wagemaster. In typical cases, payroll is done at the end of every month. There are also those that do payroll weekly for contract employees.
How do I check my payslip online payslip?
It depends on your employer. If they have payroll software that allows employees to log in to their portal to check payslips and amend personal data, then you can simply log in using the password given to you and check and download your payslip.
How do I pay my employee's payroll?
It depends on the system you are using. For payroll software with automated deposits, payroll is run and the system deposits the prescribed amounts after deductions to the employees' accounts.
Looking for reliable and accurate payroll and HR software?
Wagemaster takes the load off your shoulders of having to manually process payroll or pay the price of unreliable, unqualified, and unresponsive payroll software vendors in Kenya.
Ours is a solution customized to your needs and thoroughly tested to comply with all statutory regulations by the government of Kenya. Wagemaster has all the features you need plus more and a flexible one-off payment model that grows with your needs.
With wagemaster, you can process payslips just like the public service payslip which uses the traditional payroll format in Kenya. We also feature the best payroll calculator Kenya as well as the best PAYE calculator for all employees and employers.
If you've ever wished to send a payroll payslip to your employees, Wagemaster will sort you out.
Talk to us today via [email protected] or call/WhatsApp +254-722-718-373.